Famous Australian Brand now Available in the Americas!
OILFIELD VALVE AND PUMP GREASE EQUIPMENT
Designed for Oil & Gas, Industrial, Rotating and General Purpose Valve and Pump Maintenance Greasing Requirements
PORTABLE, AIR-OPERATED, HEAVY-DUTY FRACKING VALVE GREASE PUMPS 
Macnaught's 50:1 air-operated grease pumps are excellent for high-volume grease applications requiring continuous high-pressure grease output. These heavy duty portable greasing systems fit 5 gallon pails, 16 gallon Kegs and 55 gallon drums.
Macnaught Grease Pumps are highly popular among Oil & Gas Valve Maintenance Crews as we have the lowest air requirement ( 3 CFM ) and best warranty ( 10 years ) on the market. Generate 10,000 PSI with 16 oz per minute delivery ( NLGI No. 2 ). Our non corroding motor design means no airline lubricator is required. Easy to use with portability in mind.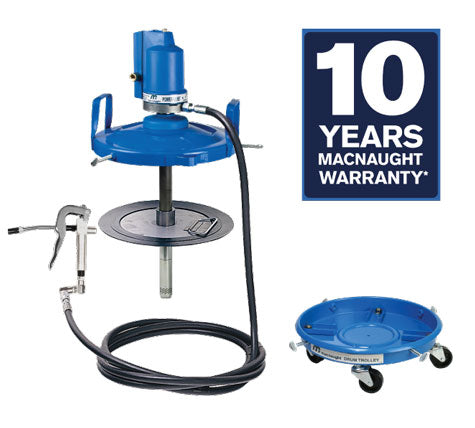 View All Grease Pumps
FEATURES & BENEFITS
Globally Known, Australian Built Macnaught Grease Pumps carry an Honest 10 year Warranty.
50:1 ratio air motor delivers 16oz per minute of grease output – at the Booster gun. Many other manufacturers state grease delivery from the pump and not with NLGI # 2 Grease. Be sure to ask for gun grease delivery!
Above All, Industry Leading 10-Year Warranty.
Zinc components – For underground mining applications.
Non-corroding air motor design – No airline lubricator required. Above all, Easy and low cost to repair.
Quiet air motor design – Above all Meets all industry noise level standards.
13' ft high-pressure grease hose – Extra hose length for easier access to difficult applications.
B2 Booster Gun – Boosts greasing pressure up to 10,000 psi.
360° ZSB Swivel – Improves greasing flexibility and offers easier one-handed operation.
KY Supergrip three-jaw high-pressure coupler – In other words Positive no leak connection.
Rubber-edged follower plate – Prevents air pockets and contamination.
Fully sealed greasing system with built-in grease strainer – Clean grease delivery every time.
Oil & Gas Industry • Mining • Plant Equipment • Agriculture • Valve Greasing • Pump Greasing • Fracking Valve • Valve Maintenance Grease Pump • Rotating Equipment • Grease Pump • Fracking Pump Greasing Pump • Oil and Gas Greasing Pump • Oilfield Valve and Pump